How Power Automate is transforming business processes
Not so long ago, automation was considered a maybe for businesses. An option worth exploring for some. A luxury for others. Despite plenty of evidence that automation was a one-way ticket to reduced costs and increased efficiencies, many organisations clung to systems and processes that required manual effort and, in turn considerable manpower.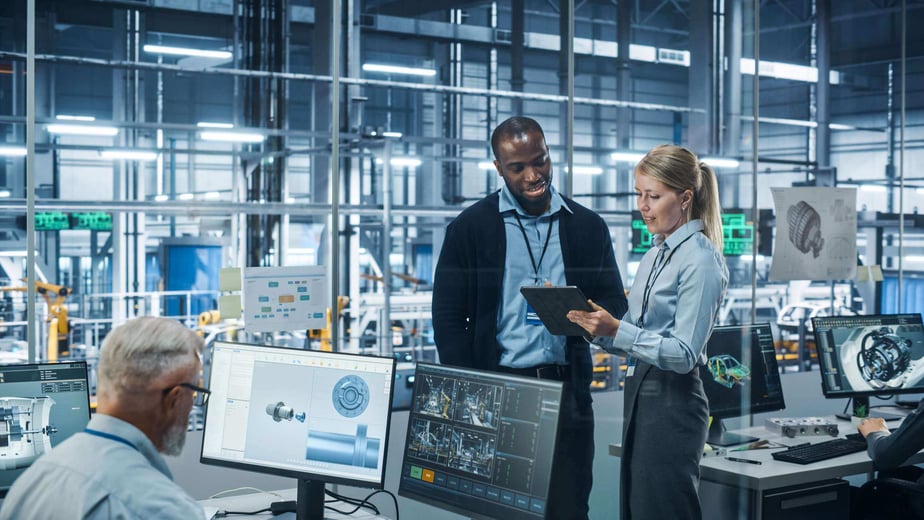 Those days are gone. On the back of a global pandemic and ongoing concerns about looming economic turmoil[1], automation is no longer a luxury but a necessity for companies wanting to keep pace with competitors. Technologies that were once the stuff of fantasy are now household concepts (ChatGPT anyone?) and even the smallest of businesses have access to solutions and tools that can allow them to benefit from the power of automation.
So we come to Power Automate, a cloud-based tool that is transforming business processes via low-code workflow automation. User-friendly and easily accessible, the software is an integral part of the game-changing Microsoft Power Platform and means businesses can do more with less by streamlining repetitive tasks and helping eliminate manual errors. To paraphrase Microsoft, Power Automate is allowing users to take care of what is important by automating the rest[2].
It is one thing to have access to Power Automate though and another to use it to best effect. As digital innovation leaders, we have seen countless examples of businesses that appreciate the benefits of the tool but fail to maximise them. For that reason, we have created this definitive guide to Microsoft Power Automate to put them on track for automation success.
What is Power Platform?
Microsoft Power Platform is a group of products that allow users to develop and build complex business solutions using no-code to low-code technology. By enabling businesses to streamline and automate processes without complex IT projects, the set of robust solutions means even non-technical users can extend and build business apps rapidly by connecting to various data sources and third-party apps. In addition to Power Automate, Power Platform's suite of products include:
Power Apps – build custom applications quickly, easily and without prior knowledge of code
Power BI – visualise and analyse your data in order to gain valuable insights rapidly so you make informed decisions and implement business process changes
Power Virtual Agents – create chatbots without the help of developers or knowledge of complex code
Power Pages – a low-code software-as-a-service platform for creating, hosting and administering external-facing websites.
What is Power Automate?
Power Automate is a powerful workflow automation tool that allows users to easily automate, integrate and accelerate business processes. Previously, mapping and automating such processes was often only possible through programming but the cloud-based solution changed this by allowing users to create individual workflow solutions between different services both within and outside the Microsoft Cloud. Leveraging Power Automate helps turn time-consuming tasks into fast automated workflows and, in turn, frees up resources so businesses can concentrate on core responsibilities.
When was Power Automate released?
Power Automate began life in 2016 as Microsoft Flow, with connections to more than 35 different services including Microsoft's OneDrive and SharePoint and public software services such as Slack, Twitter and Salesforce.com[3]. The product was rebranded as Microsoft Power Automate in 2019 and a variety of new functions were announced including robotic process automation capabilities.
How does Power Automate work?
Workflows in Power Automate start with triggers, which are events that initiate the automation process. Triggers can be based on actions like receiving an email, creating a new record or a specific time-based event and once they are activated, Power Automate executes a series of actions such as sending emails, creating tasks or updating data. Users can also add conditions and loops to control the flow of the workflow, thus enabling decision-making and repetition of actions.
What are the benefits of Power Automate?
Power Automate is a valuable tool for organisations looking to optimise performance and drive transformation in the modern digital landscape.
Increased efficiency and productivity: Power Automate helps streamline processes by automating repetitive tasks, eliminating manual work and reducing human error. By automating workflows, employees can focus on more strategic and value-added activities and subsequently increase productivity and efficiency. Power Automate also enables the integration of various systems and applications, allowing data to flow seamlessly between them and reducing the need for manual data entry or

synchronisation

.
Saves time and money: automating tasks and processes with Power Automate eliminates the need for manual intervention in routine tasks, thus freeing up employees to dedicate time to more important responsibilities. The tool also reduces the likelihood of errors that can create additional costs or force staff to spend time reworking concerns. Automating workflows and integrating systems are pivotal for achieving long-term operational efficiencies.
Enhanced collaboration: Power Automate facilitates the integration of different applications, services and systems and enables improved collaboration between teams and departments. With workflows designed to trigger actions and share data across various platforms, information is readily available to relevant stakeholders and data silos are mitigated. Better information sharing is also promoted, which is crucial for improved decision-making and organisational agility.
Why it pays to partner with experts
As the COVID-19 pandemic gripped the world in 2020, countless organisations started searching for more effective ways of doing business and Power Automate started to gain traction. What we saw on many occasions though was there was a significant difference between getting the tool and knowing how to best use it. While its user-friendly interface and low-code requirements make it ideal for citizen developers, many companies fail to put management or governance around the tools and others do not appreciate that scaling their use requires different skill sets. In many instances, a centre of excellence is required to manage delivery and implementation of such tools and that is where Innovior shines.
Well-versed at working with organisations across different industries, we are experts at putting tools such as Power Automate to best use and implementing them to scale. Along with having access to automation experts and cutting-edge technologies, we can help mitigate risks and identify potential challenges by leveraging our experience and expertise. By doing what we do best and guiding our partners' Power Automate ambitions, they not only get the most out of the solution but can increasingly focus on what they do best.
Organisations that fail to harness the full potential of their data risk forgoing productivity gains. Discover three ways intelligent automation can simplify and automate core business processes to achieve superior productivity.