Managing digital transformation across higher education campuses
In the late 1980s, Phil S Ensor used three words to capture the frustrations felt by many executives who oversee multifaceted businesses. The organisational development expert turned his attention to common structural breakdowns within institutions and, in particular, those that occur due to different areas, teams or departments not sharing common goals. Ensor described the issue as 'functional silo syndrome' and spoke of vertical departments, mistrust and lack of cooperation. He also stressed the negative impact such an approach can have on firms and the importance of breaking down silos.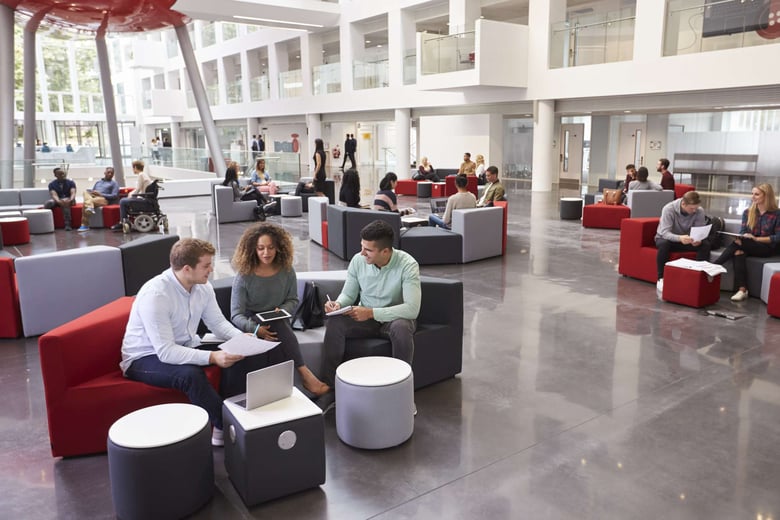 More than three decades later, 'functional silo syndrome' is one of the great modern challenges for higher education leaders. Digital transformation is a priority of the highest order for tertiary institutions as they search for technology and systems to meet the needs of today's digital-savvy students and enhance the capabilities of academic and administrative staff.
The only problem is silos are the enemy of digital transformation and few sectors have more than higher education. From multiple campuses and schools to a seemingly endless array of departments, institutes and faculties, tertiary institutions are complex organisations that do not easily lend themselves to large-scale
reinvention.
Given the finding that 89% of tech leaders consider silos one of the leading obstacles to digital transformation success1, it is imperative that tertiary executives address siloed mentalities if they are to achieve innovation excellence.
What is digital transformation in higher education?
Digital transformation in higher education is the integration of digital technology into all areas of a university or other tertiary institution, so much so that it fundamentally changes how it operates and delivers value to students and staff. As opposed to a one-off initiative or improvement, true transformation is all-encompassing and requires a strategic approach that involves multiple campuses, faculties, departments and stakeholders including students, academics and administration staff. Digital transformation is sweeping the world, with the global industry projected to more than double from $470 billion in 2020 to $1.009 billion by 20252.
Benefits of digital transformation in higher education
Digital transformation is not a simple process, however, for higher education institutions that do achieve success, there are significant benefits.
Improved student experience and conversion

:

today's tertiary students are digital natives, having grown up in a world where they have unlimited access to information and demand seamless and personalised digital connections. One study found two-thirds of Generation Z (those born after 2000) expect their universities' digital experiences to be as good as those offered by the likes of Facebook, Amazon and Netflix3. Those that develop and deploy best-practice tech solutions and tools across teaching and administrative platforms will enhance user experience for their students and applicants, leading to improved conversion and retention, in turn, gaining competitive advantage over other institutions.
Better access to data: between the likes of admissions, results and research, higher education is a treasure trove of data but the presence of silos increases the risk of disconnection. Digital transformation can create systems for different functional units to collect, store, analyse and share data across various touchpoints and produce a singular view across the wider organisation. Tertiary leaders can then gain a better understanding of their students, programs, processes and campuses and ultimately streamline and improve operations.
Reduced costs: did you know Australian universities waste an average of 20,000 hours each month on manual tasks like expense reports? Increased efficiencies and improved productivity are often hailed as key benefits of digital transformation but they are even more pertinent in a sector that too often relies on legacy systems and outdated practices. Using automation and digital tools to enhance processes and consolidate resources can help tertiary institutions cut administration costs and direct savings towards frontline services.
How to gain digital transformation traction across silos
Multiple campuses, faculties and departments are a fact of tertiary life but it is possible to avoid their negative impact on digital transformation efforts. Here are four tips for breaking down silos to successfully implement a digital transformation strategy.
Create alignment to strategy: lack of interaction is a key factor in building resistance to change. To overcome such barriers and nurture a whole-of-organisation approach to digital transformation, key department or faculty stakeholders must be involved in planning and strategy meetings. Inspiring and motivating individual teams to join forces and nurture a culture of digital connection can tear down silos, foster higher collaboration and lead to more innovation, better teamwork and interdisciplinary success.
Adopt first-rate technology: universities will never reach their full digital potential while using archaic technology and disparate systems. They merely increase the threat of data becoming siloed, which causes delays, misinformation and unhappy students and staff. Assess current tools and technology to determine if new solutions are needed or whether there is a better way of using what is already in place. It is important to ensure different systems have seamless integration to eliminate barriers, create a single source of truth and enhance collaboration across departments and faculties.
Invest in education and training: given they are places of learning, it is baffling how many tertiary institutions fail to plan, prepare and adequately train staff when rolling out new tech systems. Rather than springing changes on teams without notice or proper education, bring them on the digital journey by explaining why changes are happening and how they will make both academic and student life better. Many senior academics are historically resistant to change but providing them with training support and upskilling both before and after digital launch will go a long way to creating a culture of excitement across units.
Partner with experts: digital transformation is not about improving current systems or rolling out a one-off upgrade. It is an all-of-organisation investment that requires strategic thinking and expert knowledge, much of which will be beyond the skills sets of in-house IT teams. From identifying what tools are needed and liaising with stakeholders to nurturing buy-in across departmental lines, tech firms that specialise in digital transformation are valuable partners when navigating the change process and can be the difference between constantly battling resistance from silos and fostering an environment of digital collaboration.
Summary
Businesses that ignore the needs of their customers will lose market share and it is no different for universities that fail to maximise digital experiences for their students. The presence of multiple campuses, departments and faculties can make the journey to true digital transformation challenging but that should never be used as an excuse for failure. By putting students first, inspiring staff to focus on the bigger picture and making a strategic investment in real change, you can break down silos and significantly increase the chances of success.
Technologies such as artificial intelligence, robotic automation and big-data analytics are revolutionising how businesses operate. Learn five ways to improve digital transformation in higher education. Learn five ways to improve digital transformation in higher education.