How automation can improve medical billing
Hospitals and healthcare practices are rightly viewed by the public as community services. The provision of care to people who are ill or injured is one of society's greatest needs, hence why the clinical staff who administer it are regularly described as angels, saints and heroes
1
.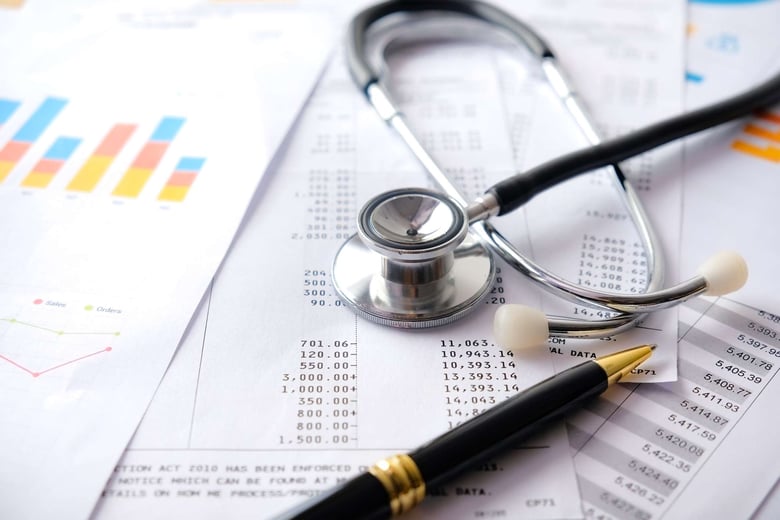 That said, there is another side of the healthcare sector that is far less romantic but no less important. Behind the scenes, administrators face a daily battle to manage the monumental financial costs involved in providing quality care. Healthcare is a multibillion-dollar sector, with hospitals and healthcare providers under increasing pressure to balance budgets2.
So we come to billing, which is the lifeblood of any healthcare practice. The ability to turn claims quickly and effectively into cash is essential but history tells us that medical billing is overwhelmingly slow-moving, complicated and labour-intensive. Coding is complex. Errors are common. Chasing payments is a recurring frustration.
Mistakes are also hugely expensive, with Medicare coming under fire this year for losing up to $3 billion due to billing errors3. Then there are 70% of medical providers saying that it takes at least a month to collect payments from patients4. Not surprisingly, an increasing number of hospitals and healthcare practices are searching for ways to improve their billing processes and many are finding the ideal solution in automation.
The cost of care - 5 surprising medical billing statistics
More than 25% of all errors are due to typos
Hospital coding errors make up 63% of mistakes
44% of errors are related to the quality and accuracy of clinical documentation
More than 50% of health fund denials are due to health billing input mistakes
More than 65% of adults have faced medical billing errors5.
What is medical billing automation?
Medical billing automation is the use of digital tools and solutions to perform routine and repetitive tasks in the billing process and complete them automatically, more rapidly and with zero errors. The automation of medical billing has been proven to streamline the likes of financial form compliance, coding and payments to improve cash flow and improve experiences for patients, staff and suppliers.
Medical billing challenges
There are many pain points for healthcare and hospital administrators when it comes to billing. These include:
Labour intensive: as legacy institutions, many hospitals continue to rely on billing systems that were developed years ago and, in turn, require staff to manually input key data and information. This equates to a significant investment in time and money for employees to process paper forms, upload data to online systems and cross-reference numbers in a bid to avoid mistakes. At a time of increasing financial pressure, many health administrators would dearly love to be able to direct some of those staff to other tasks.
Cashflow: one of the greatest hurdles for healthcare providers is cashflow, with expenses continuing to mount regardless of when patients, health funds or the likes of Medicare pay what they owe. The distribution of bills often relies on administration staff acquiring information from doctors who have performed surgeries or treatments (e.g. do we need to bill the patient, their health fund or the government). With many doctors operating as independent contractors (Visiting Medical Officers or VMOs), it can be notoriously difficult to source such details and every week delayed is another week a bill is not sent.
Complex rules: hospitals need to pursue claims from health funds that have rules for what they will cover (e.g. number of nights in hospital, meals, treatment, etc ). The tricky part is each health fund has slightly different interpretations of what they will pay and are not liable to reimburse costs when those rules are not followed to the letter of the law. With many healthcare organisations relying on admin staff to manually remember what rules apply to what health fund, the chances of mistakes soar and, in turn, so does the risk of not being paid the full amount due.
Coding: medical coding is an essential but highly skilled role within the health system. By transforming procedures, surgeries, services and treatment into universal medical codes, hospitals have a common language for billing. Now imagine what it is like when those coders are faced with a doctor's handwritten scribble and tasked with turning it into the correct code. Or an incomplete form that stops the coding process in its tracks. Manual, paper-heavy processes are a nightmare for coders and a key reason for errors and delayed payments.
Acquisition: like many sectors, healthcare has seen a surge in hospitals and practices join forces under one umbrella. Such acquisitions and takeovers create an environment where billing teams are forced to use different systems, with unnecessary duplication and a lack of set processes just two of the potential fallouts. Admin teams want to speak the same language across hospitals, especially when it comes to billing, which is why there is a trend in the industry for health services to centralise billing processes. For automation to work across different hospitals and practices, you first need processes to be the same across those facilities.
Benefits of automation
Automation is playing a leading role in changing the health billing conversation for the better.
Reduction in FTE: a modern business catch cry is to 'do more with less' and automation makes that a reality in the health billing space. There are countless examples of hospitals and healthcare providers that have been able to significantly reduce their FTE headcount in billing after adopting automated processes6 and, more importantly, deploy those team members to other areas of the business. It is all about making best use of resources, while automated health billing can also provide hospitals and practices with data and analysis to help them better understand financial performance and decision-making. Automation can be achieved for 70% of all invoices processed by a hospital.
Improved cash flow and reduced DSO: a steady flow of cash is essential to any business but hospital administrators often find themselves hamstrung by manual billing systems that are slow and cumbersome. This especially has a negative impact on Days Sales Outstanding (DSO), the measure of the average number of days it takes to collect payment from patients, health funds or government departments. Reducing that figure even slightly can go a long way to improving the financial health of a hospital or health service and automation has been shown to lower DSO by up to 30%. Likewise, digital solutions and automated checking and reporting is a proactive and highly successful way to reduce health fund leakage.
Fewer outstanding debts: chasing payments is a fact of life for any billing team but an ad hoc approach is a recipe for disaster. Automated checks and flags can alert team members when unpaid bills are becoming a concern but, more significantly, pinpoint those in most urgent need of attention. For example, as opposed to facing a list of 100 unpaid bills, the solution can provide a list of the top 20 priorities based on factors such as the largest debts or longest period with payment. Automation is a fast-track to less outstanding debts and more money in one's own account.
Summary
Automation is just one part of the medical billing solution. The best technology in the world can only deliver results if it is guided by the expert hands of people who know best how to deploy it. One size does not fit all so when it is time for a hospital or healthcare practice to use automation to boost its billing processes, they should work with a team that can pinpoint the concerns in their current systems and build a tailored solution specifically for their needs.
Robotic process automation technology has the power to transform any department or function. Learn three quick wins for organisations wanting to simplify and automate core business processes to achieve superior productivity.

Reference
1 The unintended consequences of the angel and hero narrative - HealthTimes
2 Outrage as federal government 'cuts' billions of dollars from public hospitals in budget - ABC News
3 Medicare loses up to $3 billion in billing errors | 9 News Australia - YouTube
4 10 Patient-Pay Statistics You Should Know | Finance System, Inc. (financesysteminc.com)
5 The Most Surprising Medical Billing Errors Statistics And Trends in 2023 • GITNUX
6 Improving The Healthcare Revenue Cycle With AI And RPA (forbes.com)