Women @ Innovior: Six of our best
The most important thing about International Women's Day is to make sure it's a year-round philosophy, not an annual box to be ticked. Innovior already has 32% of our team identifying as female and we are working hard to raise that to 45% by the end of this year. There is no gender pay gap at Innovior, which is as it should be.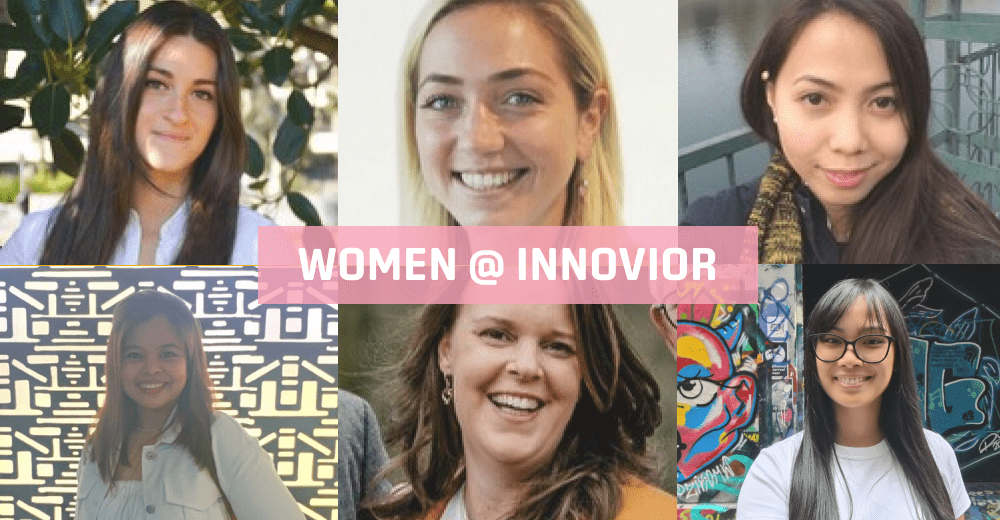 We also recognise that gender equity – taking into account the different circumstances of individuals to allow them to achieve the same outcomes – is a different and essential aim.
Gender diversity is part of this, and broader diversity is equally important.
"As a business owner, father of a daughter and a man, seeking out diversity is one of my key responsibilities," says Tim Ryan, founder and Head of Clients at Innovior. "Fostering a culture of inclusivity attracts and retains a diverse range of employees and customers, which promotes innovation and creativity – which benefits the bottom line."
Managing Director Jure Brkan agrees. "Bringing different people together from various backgrounds, cultures and belief systems not only provides a breadth of thought and skills across an organisation, it aids in balanced decision making," he says.
Hear from six of our best
We asked a handful of Innovior's many awesome women to tell us what they love about their work.
Rachelle Tan is Salesforce Platform Lead, Team Sydney
What that means: Rachelle leads and inspires a team of Salesforce professionals to deliver innovative solutions to clients across multiple projects
Why she likes it: "I'm in awe of the environment that we create – it allows our team to innovate, grow, and excel, and that's what I love the most. Our team has a high degree of autonomy – there is no one way to do things. We work to the strengths of the individuals as they take on a particular task, making us nimble as we deliver a solution. We also make sure people grow by deploying them widely – they quickly go from having very limited knowledge in a particular area to being a subject matter expert with a far broader skill set. Seeing that happen is the coolest part of my job."
Katie Mitchell is a Developer, Team Sydney
What that means: Katie has exceptional programming abilities around robotic process automation (RPA) as well as that all-too-rare skill set of being able to talk tech to the techies, the nous to understand how to solve business problems and how to explain tech to non-techies!
Why she likes it: "There is never a boring day! Working as an RPA developer means that every day you face new challenges and unfamiliar problems, and it is so cool that my job provides me with a dynamic, creative, and engaging outlet to constantly expand my knowledge and innovatively solve these problems. Working in an industry where females are still underrepresented means that I am surrounded by women who want to empower each other and make a difference for the future generations to come. That's as cool as it gets!"
Elizabeth Lopez is a Project Technical Lead, Team Sydney
What that means: Beth is an automation solution designer, she knows where the roadblocks will be and how to smash through them.
Why she likes it: "It feels so rewarding to be able to help transform the day-to-day work of my clients through technology and automation. They can now focus on non-repetitive and more rewarding work for themselves."
Larissa Cacciottolo is a Management Consultant, Team Sydney
What that means: Larissa has amazing workshop facilitation and analytical skills. She can identify the root cause of a business problem and what a future state should look like to help organisations meet their strategic goals.
Why she likes it: "My work gives me the opportunity to mentor and develop my team members, and to bring together a diverse group of individuals. I aim to be the binding force that unites us all. The satisfaction of making crucial decisions that drive a project forward is a reward in itself but seeing the tangible results of our efforts and being acknowledged for my contributions adds an extra layer of fulfilment."
Janneke Afifi is a Principal Management Consultant, Team Melbourne
What that means: There is nothing Janneke doesn't know about problem identification, solution ideation and change management. Janneke is a trusted advisor to her clients and a mentor to her team.
Why she likes it: "I am proud to play a role in making the world a happier and better place through the magic of technology. As a digital innovator, I eliminate tedious manual tasks and streamline administrative work, allowing employees to focus on what they love. My job brings peace of mind, reduces stress and promotes mental well-being. The coolest thing is that I have the power to transform the lives of employees by bringing satisfaction and balance to their work."
Ligaya Mangaban, Delivery Manager, Team Philippines
What that means: Across many geographies, Ligaya delivers great projects for clients, managing deadlines, risks and stakeholders.
Why she likes it: "The coolest thing no one knows about my job is that it's very similar to mastering the art of adulting, just in a more technical context. I set goals, plan milestones, lead a team, work with stakeholders, manage risks. The juggle is real across all the competing priorities of my role which is like life … so I just get better and better at life as I close out each successful project."
Innovior knows how important it is to embrace equality and that is why we don't just talk the talk, we walk to walk. Learn more about Working @ Innovior.